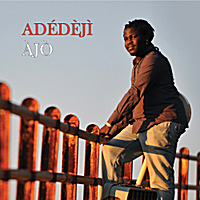 Adedeji is a prolific singer, guitarist and composer, born and raised in the vibrant city of Lagos, West Africa.
Adedeji's music is an infusion of the Traditional African style with a progressive attitude and the modern sound of jazz and funk music, creating music that is rhythmically and technically sophisticated, harmonically rich, and melodically compelling. Among his evident influences are George Benson, Wes Montgomery, Charlie Parker, King Sunny Ade, and Fela Kuti.
Has a follow up for His well-regarded debut album 'Ajo' , Adedeji has just released a new single C.O.P. The song comes from his personal experience, as a frequent traveler and a touring musician, and touches the delicate issue of immigration, addressing the reasons that make someone leave his country as well as what someone has to face at the borders, airports and eventually abroad.
Music found its way into Adedeji's heart at the early age of 5, when he joined the church choir, and by the age of 10, he was leading the choir, even though he was largely self-taught. Later, he worked prolifically as a backing vocalist, and also produced local artists in Nigeria. By the time he was18, his voice could he heard all over Nigeria, in radio jingles and adverts and on movie sound tracks.
He studied music technology at the Polytechnic, Ibadan for two years, and creative art at the University of Lagos. He has a degree in Performance from the London College of Music, and is a graduate in Jazz Guitar/Vocals at Prince Claus Conservatory, Netherlands, where he won the 2012 VNO NCW Noord Talent Award.
The year 2007 saw Adedeji relocate to Greece where he performs almost every night as a singer and guitarist, as well as working in the studio.
He spends the last years Between Nigeria and Greece as well as touring around Europe and Africa.
His musical CV includes performing with Hind, Ruben Hein, the NNO orchestra, Lionel Loueke, JD Walter, Femi Temowo, Gene Jackson, Lagbaja, Ayo Bankole, the Steve Rhodes Orchestra, Salvador Shango and many more. He features on Mc Yinka's Alana album,Yannis Kassetas Funk Abyss album, Elvis E's Prayer album; he arranged and composed songs for Salvador Sango in his role as lead singer/rhythm guitarist and his compositions feature on the band's 2005 debut album. Adedeji has performed at various festivals and events such as World Music Day 2006/2009 (Greece), Documentary Festival (Thessaloniki, Greece), African Art Fest (Madrid), Sing Out Gospel Concerts (Germany), Gideon Festival (Netherlands), Swinging in Groningen, Kalamata Jazz Festival (Greece), Amsterdam Gospel Festival, Stukafest (Groningen, Netherlands), Enclave de Agua Festival (Soria, Spain),Tanjazz festival Morocco, Naijazz Festival , Bayelsa jazz Festival Nigeria to name but a few.